President Obama signed a bill into law that makes labeling genetically modified foods mandatory. Keep reading for more information on the new requirements and how this may impact your packaging.
On Thursday, July 14, the U.S. House of Representatives voted 306-117 on a bill that would require any food with genetically modified ingredients to be labeled as such, and provide consumers with easy access to a list of which ingredients are genetically modified.
This comes after a 63-30 vote by the U.S. Senate on Thursday, July 7. The White House is reporting that President Barack Obama will sign the bill into law.
The new legislation will require most food labels to use words, pictures or a barcode that can be scanned with a smartphone to indicate genetically modified ingredients.
THOSE IN FAVOR
Proponents of the bill (including many lawmakers from rural states and the food industry) believe that national food-labeling laws will decrease costs for labeling and distribution as there will not be differences in labeling requirements in each individual state. Additionally, the labels will make it easier for consumers to learn more about the ingredients in their food.
THOSE AGAINST
Those criticizing the new legislation believe that the bill is not specific enough and will create confusion for consumers when purchasing food, citing electronic labels as the main source of potential confusion. This includes representatives from Vermont, where labeling laws required products that contained GMOs to be labeled with the phrase "produced with genetic engineering" in an effort to make it quick and easy for consumers to know which items they are purchasing contain genetically modified ingredients. The new legislation will override the current labeling laws in Vermont.
Additionally, opponents of the new bill argue that the new standard is weaker than the current standards in Vermont and that it has too many loopholes that food manufacturers can take advantage of. Specifically, food products (like corn, soybean and sugar products) that are made from genetically engineered crops but contain no genetic material after processing will not fall under the law's definition of genetically modified ingredients.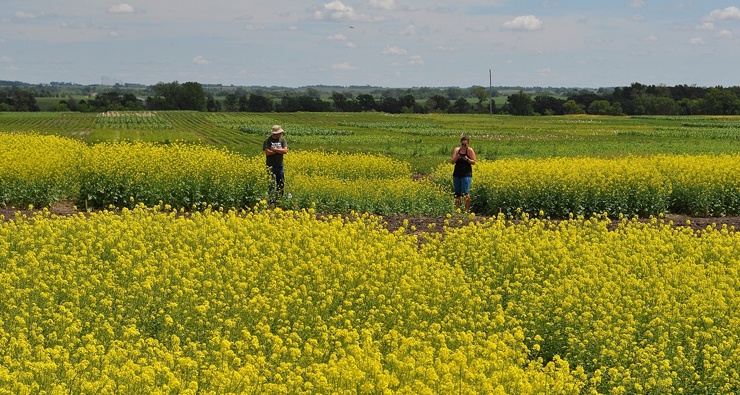 In response, the USDA said it would include commercially grown GMO corn, soybeans, sugar and canola crops. The USDA is also responsible for deciding which ingredients are genetically modified. The rules must be completed within two years of the bill becoming a law. Until then, we won't know exactly what food products will need to have the new label.
Farmers who were against the Vermont law have advocated and applauded the new legislation, as it reduces the stigmatization of GMOs and provides certainty when it comes to labeling their produce. Changes to current labels will not need to be made until the USDA has indicated how much genetically modified material must be present to require GMO labeling.
The team at Highland Precision Ag is dedicated to staying informed of the latest legislation making its way through congress that will impact agricultural business owners across the U.S. We will update this blog regularly as more information becomes available.
You can find more information about how Highland Precision Ag is helping growers adapt to ever-changing legislation as well as compliance requests here. If you have any questions, contact us today.