A digital compliance, sustainability, and enterprise management tool that allows growers, packers, and shippers to take control of their business from anywhere.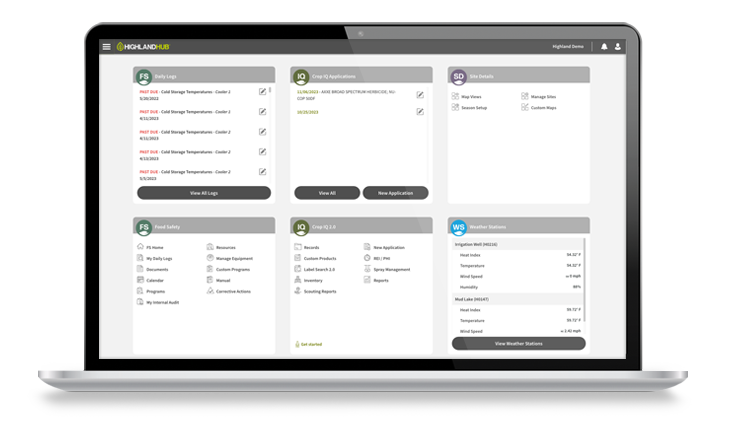 Highland Ag Solutions designs simplified software to help agribusinesses professionally manage their operations. The Hub offers a suite of software solutions for farms and facilities of any size to comply with FSMA and buyer requirements.
Crop IQ is designed to help growers manage crop protection and fertilizer application records more effectively by the ability to run custom reports, see farm inventory, and receive REI/ PHI notifications all in real-time.
Record custom planting information which includes variety, planting ID, plant date, vendor, lot number and custom fields. Record accurate plant spacing to calculate net acreage.
Complete live scouting reports by dropping a pin in a field and noting what the pest, disease and threshold is. Attach pictures and notes to better determine plan of action.
Starting with daily logs and ending with your audit report, Food Safety FS365 offers the tools needed to ensure your entire operation's food safety documentation is audit ready 365 days a year on a virtual platform.
Record, organize and run reports on lab results from your operation. Potential for this section to link directly to your lab company to eliminate the loss of paper lab results.
Organize company suppliers with ease. Export supplier documentation requests to your suppliers as an external link to avoid having to track down documentation.