For the Florida citrus industry, time is not on our side.
Huanglongbing, commonly known among growers as citrus greening, has compromised millions of citrus trees all over the world and has only recently made its way to the western hemisphere.
In 2005, citrus greening was found in South Florida and it has since spread to trees in all Florida counties with commercial citrus. The Asian Citrus Psyllid—an insect that looks similar to a small cicada—transmits the greening bacterium, Candidatus Liberibacter asiaticus, which grows in the gut of the psyllid.
Once the disease has infected the tree, it begins to infect each part, beginning with the leaves. Leaves will begin to have yellow veins, vein corking, green islands, or the sure sign of citrus greening—blotchy mottle. In addition, the tree itself will have less leaves and twig dieback, as well as an overall decline in the visible health of the tree.
For Marshall Hartley, citrus grower and Certified Crop Advisor, citrus greening should be on the top of every grower's mind.
"Citrus farming used to be easy," Harley said in reference to growing citrus before the outbreak of greening. "Now with all these problems, we're going to have to remember how to be farmers."
BATTLING CITRUS GREENING
"We've had different insects or diseases or problems but we've always been able to cure or find a better way to do it," Hartley explains. "The greening is something that is a worldwide problem and nobody's come up with a good answer yet."
Even though no one has a tried and true solution to combating citrus greening, researchers are working hard to create an effective solution. The Citrus Research and Education Center (CREC) at the University of Florida has launched large breeding programs in an effort to create new varieties of citrus trees that will naturally combat citrus greening. In the meantime, farmers are currently battling citrus greening with nutritionals, specially-designed chemicals and by introducing young citrus trees to their groves.
The CREC recommends that growers combat citrus greening by managing their groves as if they already have greening, using an "integrated approach of the use of disease-free nursery stock, reduction of the inoculum by frequent disease surveys, removal of symptomatic trees and suppression of the Asian citrus psyllid."
The federal government has created several programs to help support citrus growers as they combat greening. However, a combination of higher production costs and smaller harvests have forced many growers out of business, cutting Florida's citrus crop by two-thirds.
HOW HIGHLAND PRECISION AG CAN HELP
"One of the things that we're doing is a lot of sampling for the trees. We can actually tell growers if the trees are getting better or worse, and examine what the grower is doing to find out if it's working or not," explains Hartley. "The grower needs to know what's going on and if what he's doing is working."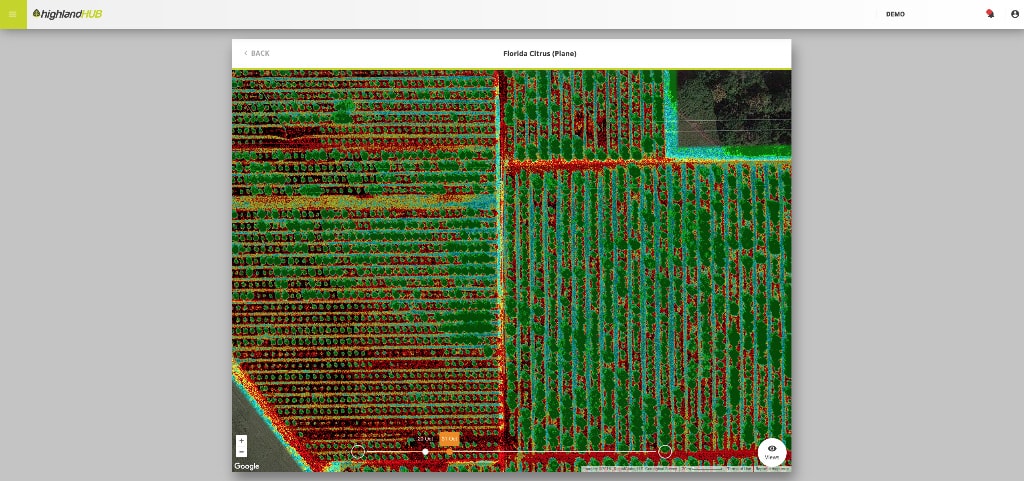 The lab services team at Highland has been trained to identify citrus greening. Quick laboratory analysis paired with high-quality imagery allows them to collapse the time it takes to quickly create solutions that are specific to that grove. They understand that everyone's using different tactics, and can advise as to what tactics are working (and what are not) to help growers overcome greening.
While it's a long road ahead, by working together with the Highland Precision Ag team, you can come to accurate conclusions on protocols that will reverse the effects of citrus greening. With a combination of a variety of precision agriculture tactics, you can be on your way to making fast and accurate decisions with a higher likelihood of success.