As the agriculture industry changes to include new farming practices, such as precision agriculture, a new generation of farmers are beginning to adopt the responsibility of integrating these new practices into their operations.
No longer can growers rely on their children to take the reins on the family farm. While there are many kids who continue to grow up and take over the family business, technology has allowed anyone—no matter where they are located—to pursue the career of their dreams.
Because of this, the agriculture industry has to rethink how we educate young men and women interested in production agriculture.
A SHIFT IN AG EDUCATION
Previously, in order to obtain a degree in agriculture in the southeast, students had to attend a land-grant university such as University of Florida, University of Georgia or Auburn University. The land-grant system began in 1862 through the Morrill Act, which gave states public land that they could then sell or utilize. Any profits made from the land would be used to establish a college that would teach agriculture and mechanical arts.
Today, the popular majors at these universities are still related to agriculture, but they also offer other programs such as education, medicine and journalism. The agriculture programs and majors these large land-grant universities offer are very research driven and include majors such as entomology, agronomy, animal science and ag economics.
These programs are very beneficial to our farmers and ranchers because they help identify solutions to disease and pest issues the industry faces every day, as well as work to create new varieties of crops. The one thing the land-grant programs lack is practical experience graduates may need to know, such as knowing how to effectively run a farming operation and produce a product upon graduation.
With the average age of the American farmer being 58 years old, schools such as Abraham Baldwin Agricultural College (ABAC) in Tifton, Georgia and Warner University in Lake Wales, Florida saw the industry's need for young individuals with the knowledge and skill set to run an operation.
Today, both schools offer Bachelor Degrees in Diversified Agriculture. Unlike other agriculture programs, the staff at ABAC and Warner work with growers throughout the southeast to continuously evolve their Diversified Agriculture programs in an effort to prepare students for future employment opportunities, specifically in production agriculture.
We spoke with Dr. Tim Marshall—Ag Faculty Consultant and Retired President of ABAC— and Scarlett Jackson— Director of Agricultural Development at Warner—regarding their agriculture programs, and how they've adapted to the ever-changing agriculture industry.
WHAT CLASSES ARE BEING TAUGHT NOW THAT WEREN'T 10 YEARS AGO?

There are few courses taught 10 years that are currently offered today. Abraham Baldwin Agricultural College (ABAC) was a two-year college until 2006. The first junior-level courses were offered in Spring 2008 to 21 students, who majored in Diversified Agriculture, Turfgrass and Golf Course Management. Warner University, who began their Bachelor's Degree program in 2012 with 6 students, now has 65 Diversified Agriculture majors.
These Bachelor's degree programs have grown, and many others have been added as degree and major choices. Currently, there are approximately 1,500 students in the ABAC School of Agriculture and Natural Resources. Very few will transfer out of ABAC or Warner, unlike students 10 years ago, who had to transfer in order to earn a bachelor's degree.
A few examples of some of coursework include:
Commodity Marketing
Spatial Data Analysis in Agriculture
Drainage, Irrigation and Erosion Control
Agriculture Policy and Law
Integrated Pest Management
Field Crop Production
Agriculture Post Harvesting
Animal Production
Fruit and Vegetable Production
International Agriculture Development
Students pair these agriculture driven courses with classes offered in the School of Liberal Arts, School of Science and Math, and School of Business which help students broaden their knowledge and enhance their professional success.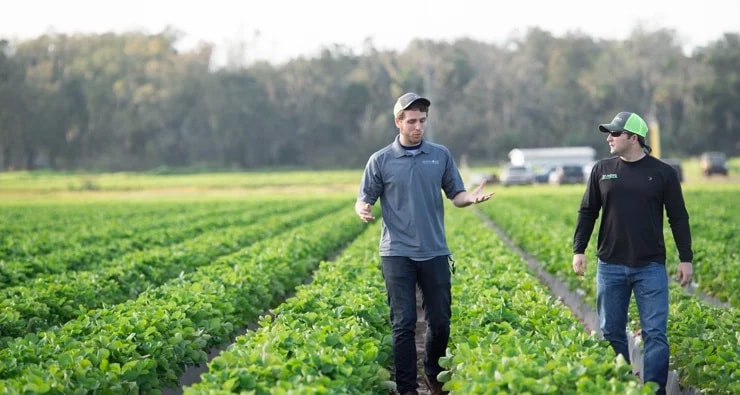 ARE MORE STUDENTS FOCUSING ON AGRICULTURE THAN BEFORE?
Short answer is yes!
10 to 15 years ago, there were no bachelor degree programs in the eastern U.S., particularly in the Southeast, that focused on production agriculture and agribusiness needs by preparing bachelor's degree graduates for current and future employees. ABAC and Warner both worked with industry advisory groups and developed their Diversified Agriculture majors.
Professionals in agriculture need the information provided to them through the land-grant university majors of Animal Science, Agronomy, Ag Economics, Ag Communications and Ag Engineering. However, the majority of job opportunities in agriculture today demand that graduates be educated via a comprehensive program that utilizes all of these disciplines in agribusiness problem-solving and service.
A diversified agriculture program does just that. It directs agriculture programs to serve the needs of the agricultural industry and produces students with hands-on, practical experience.
Dr. Marshall says ABAC's School of Agriculture and Natural Resources has seen huge growth in the last five years, which is evidence that there is a growing interest in agricultural careers. Warner University's program began only four years and since has become the University's third largest major and Florida's first diversified program.
SO THAT EXPLAINS WHY THE DIVERSIFIED AGRICULTURE CURRICULUM IS SO DIFFERENT—IT'S FOCUSED ON APPLICATION RATHER THAN THEORY.
Yes, diversified programs focus on meeting the needs of production agriculture and agribusiness through the professional development and personal growth of graduates. These programs focus on experiential learning, application, demonstration of skills, knowledge and problem solving.
WHAT TYPE OF CAREERS CAN RECENTLY GRADUATED STUDENTS EXPECT TO FIND?
During the diversified agriculture program, students take courses related to soils, crops, plant protection and production, precision and mechanized ag and livestock, as well as agribusiness areas of management, finance, and marketing.
Students are also required to complete internships as part of their degree programs, giving them real world experience and expanding their networks. Graduates from a diversified agriculture program are working in a broad range of careers, including:
Ag Education and Extension
Fruit and Vegetable Production
Ranch Management
Agri-Chemical and Seed Sales
Tractor Dealerships
Precision Ag Companies
Crop Consulting Firms
Irrigation Companies
Livestock Feed Companies
Crop Procurement and Processors
WHAT CONCENTRATIONS ARE ATTRACTING THE MOST ATTENTION FROM EMPLOYERS?
Diversified Agriculture and Ag Business.
Keys to the success of these programs include the relationships built with employers, which is earned through personal/professional relationships with faculty and staff through industry activity, the active internship programs, undergraduate professional/student clubs or organizations, and the inclusion of the agriculture industry in the curriculum through advisory committees, speakers, field trips, internship hosts, scholarship support and equipment donations.