A grower wakes to the glowing light of the phone on his night table. A notification has been pushed from the weather station in the early hours due to last night's storm, which produced heavy rainfall. A second one appears quickly after from the soil and salinity probe, notifying him that he is reaching his field capacity and needs to adjust the pump automation schedule. With a few clicks, his irrigation is back on track. Without this technology, he would have to wake up, drive out to the farm and check the classic rain gauge for results. He would have to calculate what this amount of rain has done to his soil profile, and then drive to the pump that may be on a manual schedule, or perhaps call an employee to stop the pumps from running to prevent damage.
The same story can be used for a grower who is experiencing a drought. In either scenario, the technology of soil moisture and salinity probes, water level sensors and weather stations work together. The linking of these easy-to-use smart devices allow farmers to monitor what's happening below the soil while dealing with the environmental obstacles above it.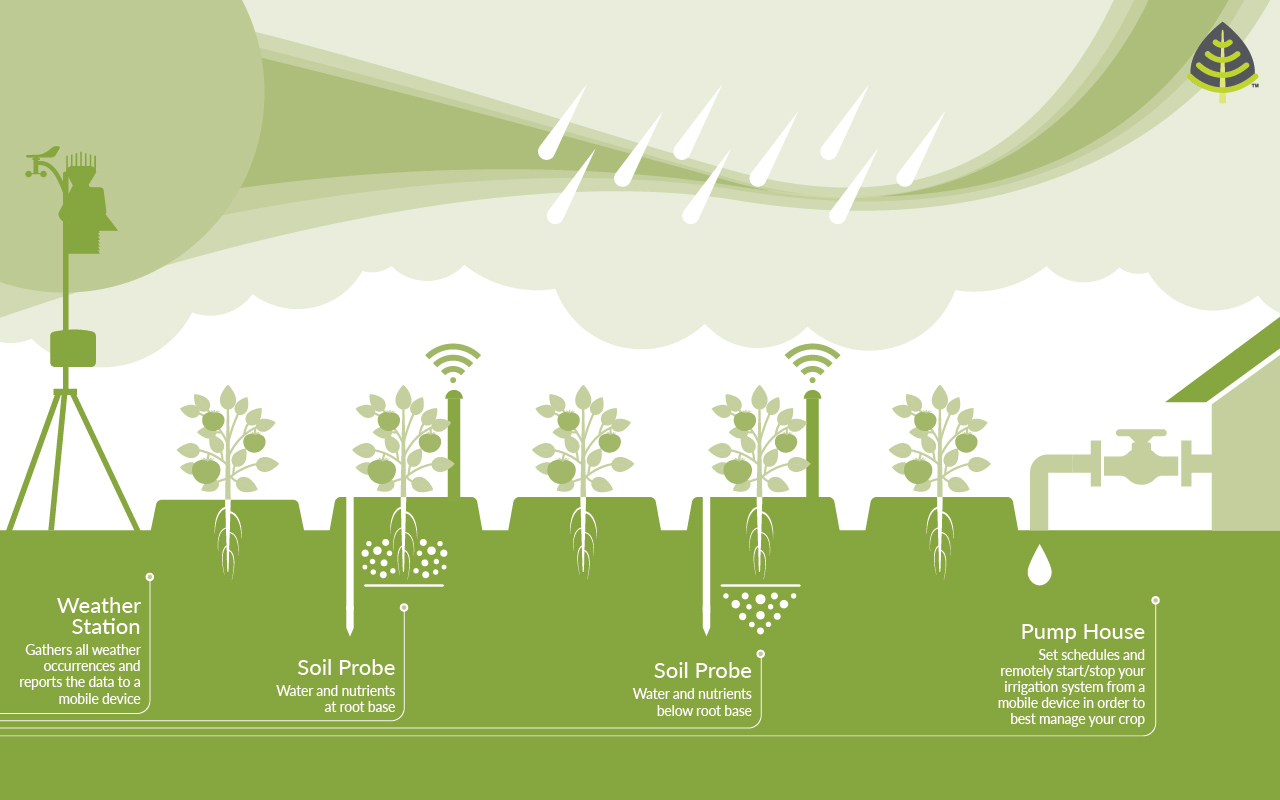 Soil and Salinity Probes and Radios
Soil moisture and salinity probes are composed of a group of sensors that go beneath the soil, mimicking the crop's root base. The sensors provide a continual view of the activity of the moisture and nutrients as they move throughout the soil profile. Typically, much time is spent observing the crop from the ground up, and then being reactive to signs in the plants. Probes however, change all of that by empowering the grower to become proactive. The probes are connected to HPA's communication radios that transmit the data back to the servers and allow us to display the data on The Highland Hub. The data is valuable information for growers, they can use it to adjust irrigation practices and nutrient supply. All of this results in less time wasted and less money spent.
Water Level Sensors
A water level sensor is a group of sensors with a radio, all mounted into a single unit used mainly for managing water levels within ditches, a critical practice for farmers who use the seepage irrigation practice. Water level sensors stay in place, providing continuous water measurements. Growers are notified when levels are out of range and can go directly to the location, or choose to run a pump to bring the ditch back to its proper level, eliminating the need to check on all locations.*

What We Recommend
If you've never used a device to monitor water, the Sentek Drill and Drop is an easy unit available in a single sensor, or 1ft, 2ft, 3ft and 4ft with sensors fixed every 4 inches. The durable construction is meant to withstand repeated relocation or single placement for extended time. Install is easy with a tapered auger bit that requires NO SLURRY and minimal root disruptions. This allows for accurate readings of a true soil profile and not the slurry. It connects wirelessly and readings are viewable from any mobile device. Communication units come in a low profile mast set up for low lying crops or standard mast for your taller tree crops with a 4-6 month battery life based on upload and read times for the sensors.
The 24-inch water level sensor is an easily relocated and durable unit. It connects wirelessly and viewable from any mobile device. Eliminates the need to drive to each location to check ditches.
*A vegetable grower with 800 acres has estimated savings at $70-90 per acre on diesel costs and inputs. For further information on getting these devices on your farm, or to schedule a demonstration, contact Anthony Machado, Software and Irrigation Management Sales, 813-777-4423 or amachado@highcor.com