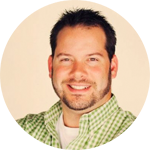 A produce industry veteran more than 20 years, Justin Machell helps growers, packers, and marketers utilize technology to leverage the benefits of data in their organizations. He leads the Produce Marketing Products team at Highland and is pioneering digital solutions to support a sustainable food supply. He is the VP of Business Development & Analytics.
---
July is the peak of blueberry production in North America and appropriately, National Blueberry Month here in the US. While the blueberry industry is focused on promoting the healthy benefits of berries to consumers, it is also a perfect time to share how industry farmers, packers and marketers can use data to help their businesses.
At Highland, our days (and sometimes nights) are dedicated to data and helping growers use technology to turn their information into action, providing valuable insights for their business. When we surveyed the specialty crop supply chain, we found limited resources available for farmers to professionally manage their businesses and decided to focus on farm management and food safety as the foundation from which to build a software platform that we call Highland Hub. Optimized for both computers and mobile devices, growers and packers can easily manage their farming and packing operations right from the palms of their hands. Here are some of the applications that power the hub:
CropIQ
A powerful software suite to manage and operate farming and packinghouse operations.
Map and record planted crops, varieties, and plant dates for each field.
Create customized maps detailing locations of water sources, structures and much more.
Quickly see fields with active REIs and/or PHIs for easy decision making.
Contains a chemical database complete with EPA numbers, REIs, PHIs, active ingredients, labels, and SDS sheets. Track input costs associated with each field, then create custom reports such as Restricted Use and Cost Analysis reports.
From Soil Moisture and Salinity Probes to Weather Stations, seamlessly connect your hardware to the Highland Hub to receive up to the minute readings, diagnostics, and notifications.
FS365 (Food Safety 365)
Be audit ready, all the time.
Create and manage your operation's food safety plan.
Complete records in the field or packinghouse using a mobile device and receive real-time notifications. Manage internal audits, corrective actions, and suppliers with this user-friendly system.
Approved by Primus Auditing Ops to facilitate their "Desktop Documentation Review" part of the food safety audit.
We also have projects in development that are going to change the game for the industry, including crop estimation and planning software and sales and marketing tools for growers and marketers. The future is bright as we continue to work to unlock the power of data for the blueberry industry. If you are interested in learning more about any of the above products, please feel free to reach out to us.