A quick Google search for "precision agriculture degrees" brings up nine colleges with curriculum focused on precision agriculture.
With several technologies being introduced into agricultural processes, schools across the country are creating new agriculture programs or adapting their current agriculture curriculum to include new techniques and technologies.
According to Auburn University agriculture education professor Chris Clemons, studies show that in the next 10 years, 25 percent of new agriculture jobs will require unmanned aerial vehicle (UAV) experience.
"That means pilots, maintainers, data analysts, software programmers, designers, engineers, whatever," Clemons said. "One-quarter of new graduates will be involved in UAV tech."
This agricultural technology is what is inspiring a new generation of farmers and generating demand for more tech-focused coursework. And they are being welcomed with open arms. Currently, there are a small number of individuals in the agriculture community that are licensed to pilot UAV systems. There are an even smaller number of individuals who are able to interpret the data.
A precision agriculture program at Clark State Community College in Springfield, Ohio, hopes to change that. Of their 100 agriculture students, 15 of them are focused on precision ag. Their goal is to "blend together traditional agriculture studies with state-of-the-art geospatial technologies, including the use of unmanned aerial vehicles for data collection," as quoted by Katie Wedell of Springfield News-Sun
"We knew we had a great agriculture program … and we just knew that this was a great way to leverage the emerging industry, but also to really focus on the data analytics piece as well as the agriculture piece," Clark State Community College President, Jo Alice Blondin said.
Clark State opened its precision agriculture program in August of 2014. In June of 2016, the program received a grant for $400,000 from the National Science Foundation.
The primary goal for the grant is to boost program enrollment as it enters its third year and to target students who may not have familial ties to farming. Secondly, Clark State wants to supply precision ag students with more career and transfer options by developing better relationships with other agriculture programs. Finally, the rest of the budget will be used to ensure that the faculty is on the leading edge of the precision agriculture industry and Clark State's own technology is up to date.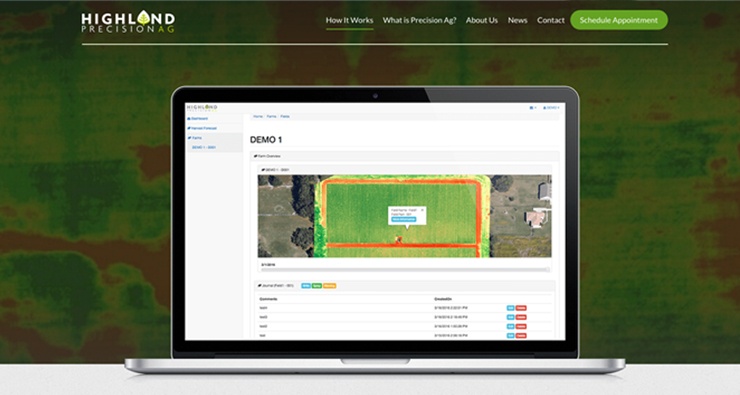 The team at Highland Precision Ag is dedicated to providing growers with state-of-the-art tools that will help them make accurate and timely crop decisions, and we're excited to see a new generation of farmers taking further interest in agriculture career opportunities.
If you're a student studying agriculture or an agricultural business owner interested in our services, feel free to contact us with any questions you may have.
Sources:
AgProfessional.com
Dayton Daily News
Illinois Farmer Today
Springfield News-Sun