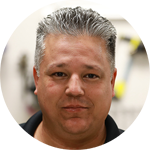 Kyro Morales is the Operations Manager for Highland Fresh Technologies. He has worked in the post-harvest division with Highland for 10 years. He provides solutions and support to our growers in the packing house environment.
---
Stopping cross contamination is a crucial step in keeping our nation's food supply safe for human consumption. It becomes a daily task that few people enjoy. Maintaining equipment that is clean, safe and running plays an important role in moving products through the supply chain. Highland Fresh Technologies is dedicated to helping blueberry growers through the post-harvest process with sanitizing and cleaning products that are effective, efficient and easy-to-use.
Growers can complete the needs of their audits with products and a complete step-by-step process:
CS-223 soap penetrates and removes fruit sugars left behind by blueberries. This soap becomes an effective tool in removing packinghouse grime and buildup on the lines.
From manual to water driven, to air powered, we carry a variety of applicators to fit any size operation that makes cleaning faster, easier and more effective.
ATP devices provides instant verification that surfaces are clean and ready for the next step.
Our no-rinse Selectrocide® sanitizer is a final step which makes the process complete in maintaining equipment in optimal conditions, while minimizing cross contamination.
Carry this process through to your lug washing operation. We can add on to your automatic lug washer to efficiently wash and sanitize your blueberry lugs. Our CS-424 low foam soap does not create foam build-up in recycled wash systems. Selectrocide can then be used to sanitize the lugs, making sure they are clean and ready for their next use.
For our process blueberry farmers, Selectrocide is used in the wash on the berries themselves. Teamed up with our CS-9300 Fruit and Veg wash, it provides a great knockdown on microbial loads that lasts months during storage, yielding better APC results.
We also help extend the life of processing equipment using our line of superior quality food-grade greases and lubricants. With outstanding high temperature performance and excellent anti-wear characteristics, our specialized lubricants outperform multipurpose sprays and greases to keep your equipment running throughout the season.
Highland Fresh Technologies is a complete resource for the tools and products that provide growers peace of mind. Our easy-to-use tools and products help keep facilities running effectively and efficiently.