The FDA Food Safety Modernization Act (FSMA), is said to be the most sweeping reform of our food safety laws in more than 70 years. FSMA is made up of seven major rules, one of which being the Produce Safety Rule.
For the first time ever, this regulation focuses on setting federal regulatory standards for the production, harvest, and handling of fruits and vegetables, in an effort to prevent microbial contamination and reduce foodborne illnesses associated with fresh produce.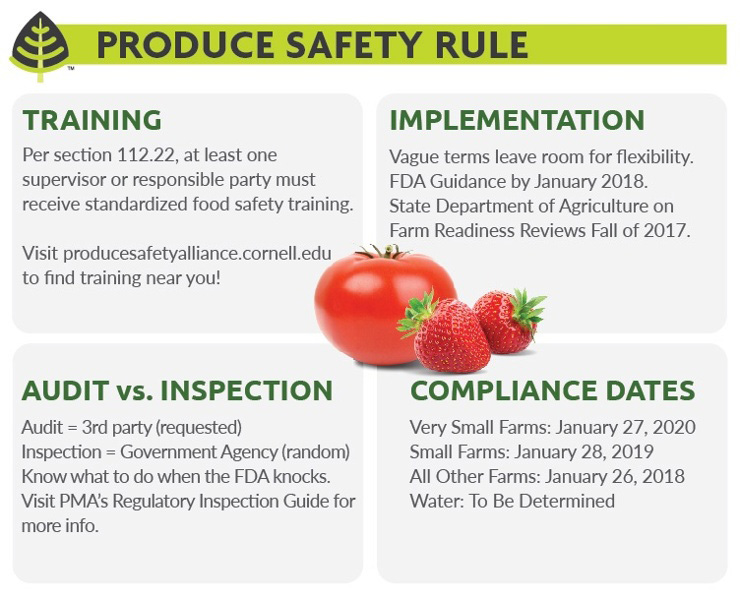 With the compliance date for the Produce Safety Rule fast approaching, there are five things you should keep in mind:
1. COMPLIANCE DATES VARY DEPENDING ON THE SIZE OF YOUR FARM.
Farms must be compliant with the FSMA Produce Safety Rule (excluding water) by January 26, 2018 unless they meet the definition for small or very small farms, as defined by the FDA. The rule does not cover produce farms that have average annual produce sales during the previous 3-year period of $25,000 or less, produce that is used for personal or on-farm consumption or produce that is not a raw agricultural commodity (RAC). Not sure if your farm is covered under the Produce Safety rule? Learn more here.
Important Note: Your farm may also be subject to the Preventive Controls Rule if you pack or hold produce. See if your farm is covered.
2. THE FDA HAS EXTENDED THE COMPLIANCE DATES FOR AGRICULTURAL WATER STANDARDS.
After receiving feedback from industry, on June 6th, the FDA announced their intention to extend the compliance dates for agricultural water requirements in the Produce Safety Rule (other than for sprouts) in order to simplify the agricultural water standard requirements. While it is still unclear what the outcome of the extension will be or how long the extension will last, the 2020 compliance date is no longer in effect and the FDA encourages farms to continue to examine practices, processes and procedures related to agricultural water and how it is used on their farms.
3. THE RULE REQUIRES SUPERVISOR TRAINING.
To be compliant, at least one supervisor or responsible party from the farming operation subject to the FSMA Produce Safety Rule must successfully complete a standardized food safety training that is recognized by the Food and Drug Administration. Check upcoming grower trainings to find one in your area.
4. THE RULE PROVIDES FLEXIBILITY
While the Produce Safety Rule is now final and compliance dates are approaching, many growers are still unsure how to implement this rule in their operation. The rule uses terms such as "when applicable", "as appropriate" and "as frequently as reasonably necessary" when referring to requirements within the regulation. The FDA plans to publish a Produce Safety Rule Guidance document by January 2018, while State Departments of Ag and/or University extension will begin conducting On Farm Readiness Reviews in the fall of 2017 to help growers prepare for inspections and clarify FDA's expectations.
5. AN INSPECTION IS NOT AN AUDIT! KNOW THE DIFFERENCE AND HOW TO HANDLE THE SITUATION WHEN THE FDA KNOCKS.
Audits are voluntary (kind of) and scheduled by the company, whereas inspections are random. Audits are typically based on a points system with a minimum score requirement and inspections are simply in compliance or not. When the FDA knocks, know your rights and responsibilities and treat it as a third-party audit conducted by a government agency. For more information, refer the Food Regulatory Inspection Manual provided by PMA.
NEXT STEPS
While a lot of clarity is still needed in the exact requirements of the Produce Safety Rule, those conducting annual third-party audits are heading in the right direction for FSMA compliance.
Contact our Food Safety Team to get answers your questions and implement the Produce Safety Rule on your farm.